Makeup has become a part of every day routine and personality for many people out there. It makes us feel powerful and creative at the same time. It can be used to cover those imperfections or to enhance the features you love the most. But you might have noticed that at times when you are experimenting  with the new trends , the result doesn't comes out to be as good as you expected it to be or can even turn out to be worse. While there are tons of videos all over social media but when it comes down to the mistakes that can be avoided to achieve a flawless look are pretty basic.
NOT USING COLOR CORRECTOR
View this post on Instagram
The most common skin concerns like dark circles, pigmentation and uneven skin tone require a little extra efforts to cover up but if you are not able to do it properly, the entire look can come out to be a disaster. Usually people skip on using color corrector and instead use excess amount of foundation or concealer which makes the face look too cakey, so in order to avoid that,  you must use the color corrector and apply in thin layers before you start with your base.
GREEN- to cover blemishes, redness, acne spots.
PURPLE- to brighten dull area
PEACH, ORANGE AND PINKISH TONES- to cover dark circles(especially with blue tones) and pigmented areas
APPLYING FACE POWDER THE WRONG WAY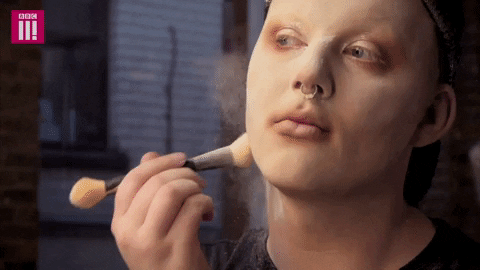 Stepping out in summers with a full glam is a nightmare if you haven't set your makeup with powder especially for those with oily skin who have to struggle with this mess throughout the year. Setting powders are good for minimizing the appearance of pores and also to get rid of extra shine on the t zone but when you are too generous with it , you can make the whole look to appear too heavy and the  texture on your face will be magnified into 10 times. So in order to avoid yourself from looking flour bombed you can do the either of the two simple steps:
If you are someone who is into baking then use a damp beauty blender to set your under eyes , below your contoured area and around the bridge of your nose. Baking with beauty blender should only be done when you are using a loosing setting powder which has a very fine texture so that your concealed area stays in place throughout the day
If you want to go for a more dewy and subtle look then just use a fluffy powder brush which is not too huge so that you can be precised with where you want to use the setting powder like the t zone or your under eyes. Take a little amount on your  brush and gently press in the powder so that it sets flawlessly between the fine lines and on top of your concealer.
NOT BLENDING ON ALL THE VISIBLE AREAS
Most of you might know that you need to blend your foundation from your face to the neck so that the skin tone appears the same but you often forget to cover blending it over your ears and the chest area if you are wearing an attire which makes it visible. We all love to watch the celebrities' red carpet looks and often recreate them in our own way but if you have paid keen attention on their makeup, you would notice that their whole body appears to be a second skin and you can not see any  unblended traces of foundation(excluding some makeup disasters). Majority of the online makeup tutorials mention only to match your face and neck and don't emphasis that the application of your foundation (or base) also depends on the kind of hairstyle you opt , for example if you made a top knot and did the whole glam but forgot to cover the back of your neck or ears and yes you may be able to face tune in photos but still there isn't a filter made which can do it in real life and this is why you need a shade which is always closest to your skin tone.
SO DON'T EVER UNDERESTIMATE THE POWER OF BLENDING!!!